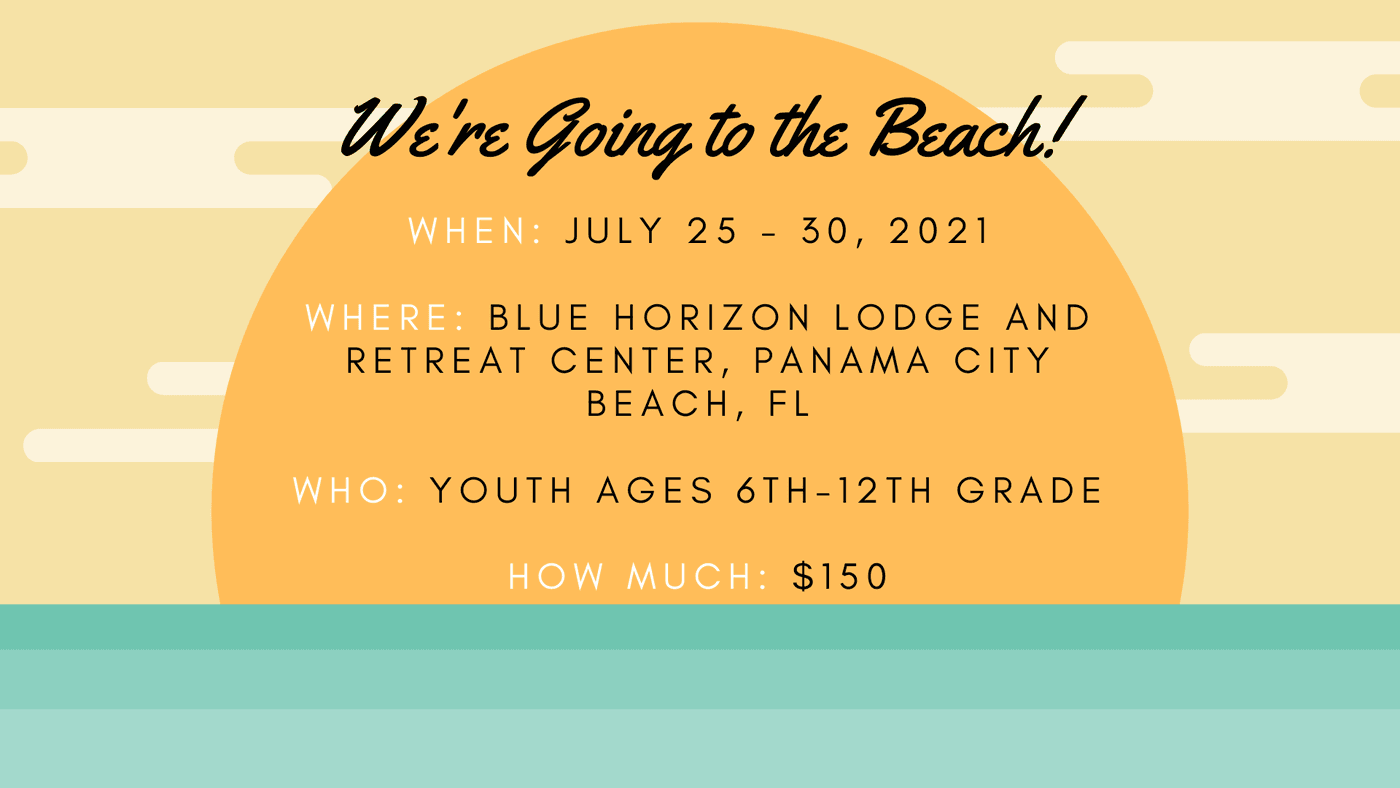 Youth Beach Retreat Information
I am ecstatic to announce that the youth group will be taking a trip this summer to Panama City Beach, Florida!! As I know we have all experienced, last year was a whirlwind of cancelations. These cancelations began for us with a youth trip planned over 2020 spring break not happening... As you can imagine, we have been longing for the chance to travel again as a group! This is our chance! The trip will happen July 25th-30th and will cost $150 to attend. (If you need financial assistance, don't hesitate to reach out to Wyatt at any time). As we get closer to the dates for our trip there will be more information given regarding transportation and packing lists. For now, you can register by clicking the button below!
Here is some quick info. you might need:
The Youth Beach Retreat is a time where we can spend time together building relationships and simply enjoying one another's time!
We will be staying at the Blue Horizon Lodge and Retreat Center. It is right across the road from the beach, has a pool (for those who hate the sand), a basketball court, and a sand volleyball pit! If you want to check out more about our stay you can do so by clicking here.
The Registration fee covers the cost of your stay at Blue Horizon. We, with the help of our church family, will cover the rest of the expenses for the retreat including: Transportation, Food, and Activities.
INVITE A FRIEND! The more the merrier, just share the link to registration with anyone who is planning to come.
There will be a Parent Meeting Sunday, July 11, 2021 at 5:00pm so we can get everything in order for our trip.
If you have any additional questions or concerns, don't hesitate to reach out to Wyatt. You can reach him at (931) 691-1903.
Once you have registered, you can pay your registration fee by clicking the button below. (Remember, don't let the cost of the registration fee be the thing that keeps you from going. Reach out to Wyatt if you are in need of financial assistance).
Instructions to pay:
You will need to create a login with our payment system if you do not already have one.
Specify the amount you wish to pay. ($150 Dollars for registration fee, any other amount if you are giving to the retreat)
Make sure to select "Youth Summer Beach Retreat 2021" for the fund.
Select one-time payment